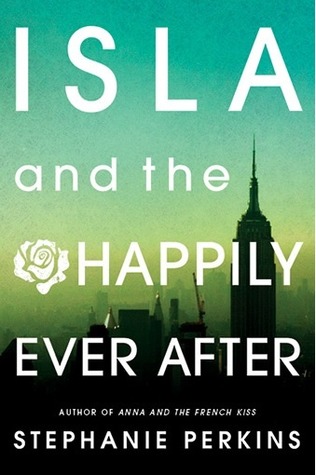 Thanks to Penguin Canada, I was fortunate enough to read an early copy of ISLA AND THE HAPPILY EVER AFTER. I can't tell you how excited I was. I read it in a day.
As with everything Stephanie Perkins writes, ISLA is highly addictive and highly readable and highly romantic. (The author mentioned on Twitter that there was LOTS of kissing, and she wasn't kidding!) It was not difficult to read it in a day (the difficult part was telling Real Life to stop bothering me!)
There was so much to love in this book, from the setting (Paris! New York! Barcelona!), which was described in such fun and interesting detail, to the odd chemistry between a girl who has never been seen and a boy who is too used to being seen. I loved finding out the background of Josh and why he is the way he is, and why he was the way he was in ANNA AND THE FRENCH KISS. Isla was a sweet and endearing character with an unexpected side to her, which I loved.
I also have a YA romance set in Europe coming out this fall (FOREIGN EXCHANGE, Evernight Teen, October, 14). Interesting tidbit... during my many revisions of FOREIGN EXCHANGE, I had to whittle down much of the story that took place in Barcelona, and instead expand the part of the story that took place in Italy. I was happily surprised when I read the part of ISLA that took place in Barcelona, because it was as if a part of my book showed up in Stephanie's book. Our characters visited all the same monuments, had many of the same feelings about them. So fun for me to read!
I kept waiting for my favorite characters from ANNA and LOLA to show up, and hoping their appearances would be satisfying. I don't want to give spoilers, but I'll say that these characters were brought back perfectly in a very satisfying way. Stephanie Perkins is a character-wielding-genius!
Stay tuned, because I will be giving away my early copy of ISLA very soon in a very special giveaway. (I'll want to buy my own hardcover when it comes out, but I really want to share this early copy with another Stephanie Perkins fan very soon!)